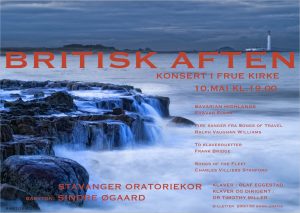 Vi ønsker velkommen til fremføring av vårens prosjekt i Frue kirke,
onsdag 10. mai kl. 19.00:
Charles Villiers Stanford: Songs of the fleet.
Williams/Stevenson: Fire sanger fra "Songs of travel".
Frank Bridge:  To klaverduetter
Edvard Elgar:  From the Bavarian highlands.
Medvirkende:
Sindre Øgaard - baryton.
Olaf Eggestad - klaver.
Timothy Miller - dirigent.
og Stavanger oratoriekor.
Billetter selges ved inngangen: kr. 150,- for elever og studenter. Ellers kr. 200,-
Fri adgang for barn under 15 år.